£45
(+booking & transaction fees)
BBC Worldwide presents Planet Earth in Concert tickets

Symphony Hall, Birmingham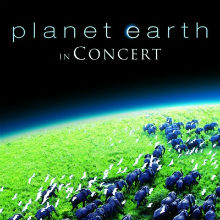 BBC Worldwide presents Planet Earth in Concert tickets are on sale now!!

Following its critically acclaimed UK premiere in London, Emmy award-winning British composer George Fenton conducts the Philharmonia Orchestra and special guest soloist Haley Glennie-Smith, in a breathtaking production of Planet Earth in Concert. Touring the UK for the first time, this stunning performance of music and filmic imagery, combines emotional and evocative live orchestral music with spectacular reworked HD imagery from the groundbreaking BBC television series Planet Earth.

Acknowledged as the UK's foremost musical pioneer, with an extraordinary recording legacy, the Philharmonia Orchestra leads the field for its quality of playing, and for its innovative approach to audience development, residencies, music education and the use of new technologies – including digital installations such as the multi-award-winning RE-RITE, webcasts, podcasts, downloads and computer games – in reaching a global audience. Together with its relationships with the world's most sought-after artists, most importantly its Principal Conductor Esa-Pekka Salonen, the Philharmonia is at the heart of British musical life.