£55, £45 & £36.50 
(+booking & transaction fees)
Olivia Newton-John tickets

the NIA, Birmingham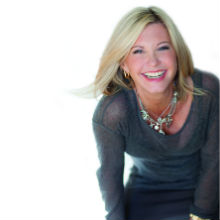 Olivia Newton-John tickets are on sale Friday 9am!!

With a career spanning more than four decades and over 100 million albums sold, multiple Grammy Award winner Olivia Newton-John celebrates her 40th year in music with a very special concert tour in the UK in March 2013. The Tour, is her first in the UK since the 'Totally Hot World Tour' in 1978.

A vibrant, creative individual who is adored by fans around the world, Olivia remains an icon in both movie and music history, having been honored with four Grammy Awards, numerous Country Music, American Music and People's Choice Awards, an Emmy Award, ten #1 hits including "Physical," which topped the charts for ten consecutive weeks, and over 15 top 10 singles. (Billboard Magazine recently listed "Physical" at #6 on their Top 100 Songs Of All Time list and named it "The Sexiest Song of All Time".)  Olivia hit the Hot 100 chart once again with the dance remix of "Physical" that she recorded and performed with Jane Lynch on the hit series, "Glee."

In 1978, her co-starring role with John Travolta in "Grease" catapulted Olivia into super-stardom. This film's best-selling soundtrack featured the duets "You're The One That I Want" and "Summer Nights," with Travolta, as well as her mega-hit, "Hopelessly Devoted To You." To date "Grease" remains the most successful movie musical in history. Her other feature film credits include "Toomorrow," "Xanadu," "Two Of A Kind," "It's My Party," "Sordid Lives," and "Score: A Hockey Musical." Her latest film, "A Few Best Men," has received critical acclaim around the world and was recently released in the United Kingdom.

Adding author to her already impressive career, Olivia's new cookbook, "LivWise: Easy Recipes for a Healthy, Happy Life" was recently released and all of her royalties will benefit the Olivia Newton-John Cancer and Wellness Centre (ONJCWC) in her hometown of Melbourne, Australia.   As a breast cancer "thriver," and after nearly ten years of fundraising and building, Olivia is thrilled that the ONJCWC opened its doors to patients on July 2, 2012 – almost 20 years to the day from her own cancer diagnosis.

For the 2012 Christmas season, Olivia and John Travolta have reunited for the first time in over 30 years and combined their iconic voices for "This Christmas," available November 13 from Universal Music Enterprises.  A true labor of love made specifically for "the giving season," Travolta and Newton-John will donate the artist proceeds from the album equally to their respective charities, the Olivia Newton-John Cancer and Wellness Centre and the Jett Travolta Foundation. The CD is the audio equivalent of those classic network TV specials hosted from the stars' homes, an intimate, warm set of traditional holiday songs and features special guests Barbra Streisand,Tony Bennett and the Count Basie Orchestra, James Taylor, Chick Corea, Kenny G and Sir Cliff Richard.

With her current and ongoing projects and philanthropic endeavors, Olivia's worldwide popularity is as strong as ever!