£16.50
(+booking & transaction fees)
The Lock In tickets

Town Hall, Birmingham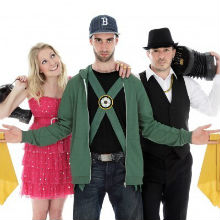 The Lock In tickets are on sale now!!

Some of the UK's oldest forms of dance are brought bang up to date as they collide with some of the youngest in an exciting new dance show.

The show, the brainchild of award-winning folk band The Demon Barbers, sees a group of street dancers arrive at an apparently deserted pub. Local rumour has it that The Fighting Cocks is the place to be 'after hours' but as the regulars arrive a clash of cultures turns into a dance floor stand-off.

The skill, speed and athleticism of the dancers on both sides soon wins the others over as the old and new are brought together in an exciting and dynamic dance-off.

The Lock In promises to bring some lesser known forms of dance into the mainstream. Fast-paced and innovative, the show brings together some of the UK's top clog, sword and Morris dancers with their counterparts from the worlds of B-boying, popping & krump.