Prices from £44 - £51.50
(incl admin fee)
(+ £2.50 fulfilment fee)
P!nk tickets

LG Arena
Please note there is a limit of 4 tickets per venue per person for this event.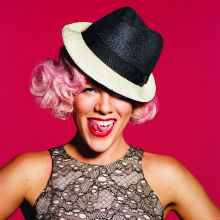 Important Information

With great regret, P!nk has been forced to postpone her concert tonight(Monday 22nd April) at the LG Arena, Birmingham.

A Doctor visited P!nk this afternoon and confirmed that she is suffering from an inner ear and respiratory infection, and on medical advice she has been advised that she cannot perform tonight.

P!nk has performed 32 shows to date as part of her "The Truth About Love Tour". The tour commenced in the USA in February of this year, and she undertook 26 shows throughout the US before commencing the European leg in Dublin on April 12th. Her first UK concerts were in Manchester on Sunday 14th & Monday 15th.

The promoters have asked ticket holders for tonight's concert to retain their tickets. Further announcements regarding a replacement date will follow.
Grammy Award winning singer-songwriter and pop culture icon, announced that she will tour Europe for the first time in two years!
P!nk
's arena tour is heading to the LG Arena, Birmingham on Sunday 21 and Monday 22 April 2013.
P!nk
has released her 6th studio album,
The Truth About Love
, which has garnered fantastic reviews worldwide. The first single "Blow Me (One Last Kiss)" has topped the UK radio airplay charts and sold more copies here in its first week than any of her previous hits.