Premium Tickets £63
Standard Tickets £51
Unreserved seating
(prices shown incl admin fee)

The Card Shark Show starring Steve Truglia - Now in it's third year!


Courthouse Hotel London, London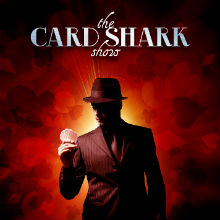 The Card Shark Show starring Steve Truglia tickets are on sale now!!

Enter the dark and dangerous world of the Card Shark.

From the middle ages through Wild West saloon bars to murderous gangsters, discover how sleight of hand techniques honed by hardened gamblers influenced modern card magic. One of the UK's foremost magicians and expert close up magic star Steve Truglia AIMC amazes London audiences with classic card tricks, cheats and scams in this brand new and interactive multimedia show with film, images, music and live camera action. See world class sleight of hand card magic like never before.

'And what a joy it is to see the master at work. Famed for his sleight of hand, Truglia explains the evolution of cardistry from the toolbox of the gambling cheat to the close-up table of the magician. If you want to see a specialist skill elevated to the highest level, buy a ticket to the Card Shark Show.' - GQ Magazine

'Award-winning close-up magician Steve Truglia says no one will leave his Card Shark Show without going "Wow!" and he's right. Enthralling and intriguing, his sleight of hand is clean as a whistle.Is there anyone better? Truglia's show is truly magic.' - The Stage

The Card Shark Show is showing in the stunning 5 star luxury, intimate private cinema / theatre of the Courthouse Hotel, in London's Great Marlborough Street W1. An historic Grade II listed building which was formerly the Marlborough Street Magistrates Court. Charles Dickens worked in the building in 1835, and many famous people were tried in the court, including Oscar Wilde, Mick Jagger and John Lennon. The courtroom is now the hotel restaurant Silk, and features the original judge's bench, dock and witness stand. In the bar the original cells remain, doors open, including the cell that Christine Keeler was held in at the start of what became the Profumo Affair in the 1960's. The theatre space hold only 96 people, making the show a truly intimate and personal experience. The fitting venue to explore the crooked ways of gambling cheats and con artists.