£10
(+booking & transaction fees)
Carina Round tickets

Hare & Hounds, Birmingham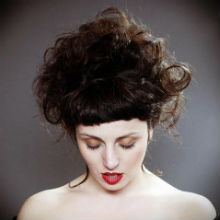 Carina Round tickets are on sale now!!

Carina Round has carved a singular path in music with her inimitable voice and stirringly varied compositions. Her uncompromising vision and thrilling versatility has garnered an immensely passionate fan base including a myriad of highly regarded musicians. Her latest album, 'Tigermending,' was produced by Grammy nominated writer Dan Burns, and includes collaborations with the legendary Dave Stewart, Brian Eno, and Smashing Pumpkins' front man Billy Corgan.

Making her home in the creative circus of Loss Angles surrounded by a supportive community of fantastic musicians, artists, videographers and a string of other collaborators, has led Carina to work with some of her favourite artists old and new and opened up many new roads of expression. She has had the time and freedom to experiment and explore and created yet another beautiful record in 'Tigermending', without the pressure or constraints of a label. Every song in its own way is speaking of really different things. There's guitar ragers, acoustic beauties, electronic epics, dashes of prog and all the good stuff in between, yet there's still a strong backbone running throughout the whole record.